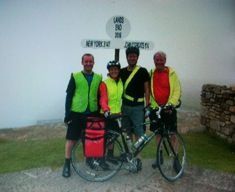 With the 9 hour drive from Scotland behind us, we landed in Penzance with a couple of hours to spare. What else to do than "build up our energy" with some local produce (pasties, in case that alluded you).
After meeting Mel and Pete from their train, there was but one thing to do – get on with the ride and head out to the start, assuming we could actually find it, as a thick misty rain blanketed the land. One thing I've learnt over the past few months is the bewildering amount of gear you can get for cycling, so the wrap around glasses kept the rain from my eyes, the hi-vis vest kept cars away from me, and the waterproof overshoes, well they kept me looking like a bit of a tool… I've also re-learnt that wet brakes are pathetic, although that was after tanking along at 39mph! 🙂
Lands End itself was a bustle of activity, mostly cyclists starting or finishing country-long rides (copycats!), so with the obligatory photos taken we headed back the 9 miles to Penzance to rest, and "build up our energy" even more, may the rest of the rides be like this!
P.S 4 cyclists in one room is not a good idea for our noses, and seeing as I get to write this, I'll blame it on everyone else 😉