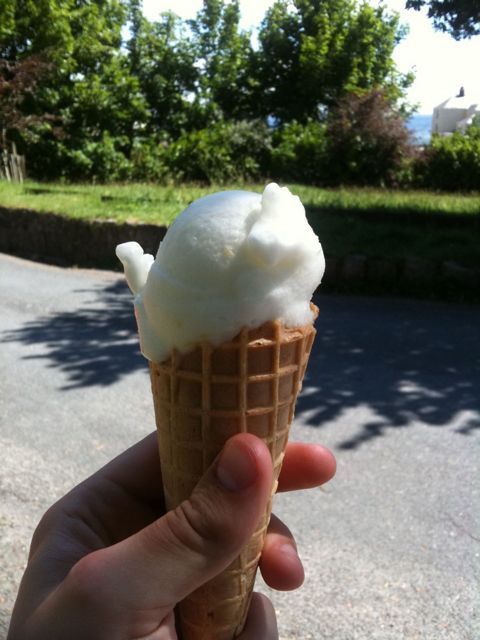 Penzance to Liskeard:
Our first full day in the saddle has been good, the clouds broke early on for a beautiful sunny day, and our bikes and bodies made it through. We learnt the power of the main road, being flatter and smoother to let us soak up the miles, which was proved when we took a little detour through the back roads to cut a corner. We ended up with several sat nav stops to get our bearings, followed by steep hills that had Mel overtaken by a runner (yes, someone on foot..:-)) – as a way of redemption, she later passed a bunch of cycling lejoggers, one of which did not seem as though he'd make it to the end of the day, nevermind the end of the country.
As a way of entertaining ourselves for the next days, we've decided to eat a local speciality each day, the joy of cycling is surely stuffing your face with whatever you want. With my failed attempt to get another Cornish pasty for lunch, we ended up with Cornish ice creams instead, probably a safer idea than clotted cream!
The hills undulated, with some stinkers that required mars bar stops to refuel. Finally, Liskeard was nearing, but not before a final steep hill. I crunched down to bottom gear, causing a woman walking her dogs to look back in surprise that someone was attempting such a climb. Two minutes later, she checked again, I'd made it about five metres closer, and then had a nice little chat as I eeked by and carried on up the long hill. Mel never did see that dog walker…
Pete's Thought for the day:
Now then, we thought the Wards would start to write a few words every night regarding our escapades along this foolish pursuit. So then first day done and we are weary but happy. We stink, Mel's hair is on its own mission, my bum is edging into the can't sit down category and we walk like Clive Dunn but weather is lovely as is the scenery and we have made our first destination so all good. The joy of Dartmoor tomorrow with its ponys and silly hills, will give you an update of our condition tomorrow. Please feel free to leave comments, well wishes etc on the blog.
Love Mel & Pete