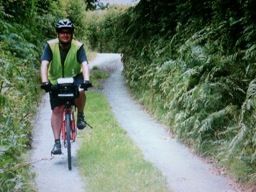 Liskeard to Tiverton
Keeping stats can be a bad thing, take today for example, there is no way the shorter distance, slower average and less calories do justice to the ride over Dartmoor. Even the height climbed doesn't really convey our Herculian efforts on the probable highest ride of the whole trip (what do you mean "stop milking it"?).
But anyway, there was plenty of fun on the trip today, in fact Pete enjoyed himself so much, he went back to do a section on top of Dartmoor again, with some feeble excuse about leaving his glasses behind. I also spent most the day with pants hanging from various places on my bike after they failed to dry at night, and also spent too long looking at the steep hill warnings to realise there was a steep hill with bends in it – not a good idea at 40 mph.
We've also deviated from the LEJOG route everyone else seems to be doing, heading north towards our goal as soon as possible. It now seems a weird choice with all the crazy climbs on long forgotten roads, and mad descents causing concerning brake noises. To Google maps, they're all just lines, how are we meant to tell?
Apart from that, we've failed at our goal of eating local specialities. A Devonshire cream tea just didn't seem to fit today, so Jo, any suggestions are appreciated! We did munch on more pasties, but I don't think that has much to do with being near Cornwall. I'm thinking of getting a cream tea to go tomorrow morning, as we'll be leaving Devon soon – it sure is flying by!
Pete's thought for the day:
Well the second day of cycling has taken its toll, Mel is flat out on the bed with her back freshly rubbed with nurofen gel, my shorts are that bad that they are hanging out of the window even though they have been washed and I have had to buy vasoline, say no more. Yep its been a tough one, over Dartmoor and beyond. So far we have climbed half of everests height over the last two days which confirms that the south west is not flat if anyone was in any doubt. Off to Bristol tomorrow with promises of flat roads and easier cycling if I can get Mel out of bed.