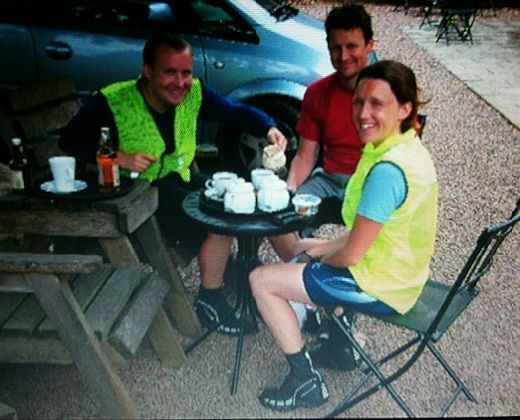 Tiverton to Bristol
Well, another day done as we edge closer to the finish, and Somerset treated us well by being flat as a pancake in comparison to Devon (or had road builders with a lot more sense)
After only half a mile, there were a few drops of rain, so like good cyclists we stopped to put all of our wet weather gear on – jackets, bag covers and booties that made us "look like professionals" according to Mel, "chumps" was a bit closer if you ask me.. But it was all unnecessary, and the rest of the day was pretty much warm, flat and with the wind behind us (Chris B – does that sound more like it?;-) )
We've also been making inroads to our food journey with Devonshire cream teas to go, followed by scrumpy cider from Somerset, and cheddar cheese, as we passed near the cheddar gorge – well and truly caught up. Alas the mars bar count is slipping, my stomach can only take so much! (Chris A – I'll try harder to eat more!)
My first injury has surfaced, the good thing being that it's just a horsefly bite, the bad thing is that my whole wrist has swollen to look like a fat old ladies arm, as described by Pete, and suggested I start a new stat to track the circumference of my wrist.
So, hopefully this marks the start of some nice days in the saddle, and as Dad put it, we're now getting into the groove.
Pete's Thought for the day:
"What a difference a day makes, 24 little hours" not sure who wrote or sang that but you know what she was on to something. After the saddle related torture of the last two days, today has turned into somewhat of a doddle (comparatively speaking). Flat roads, wind behind us, easy route finding have all been our chums today. We have still chalked 68 miles off our total so it wasn't a rest day it just feels it compared to the first two. So today has been a pleasure then, let's hope more days are like this and we don't let ourselves get too cocky about it all as there are 11 days and 800 miles of riding yet to come and that's a lot of vasoline in my book.