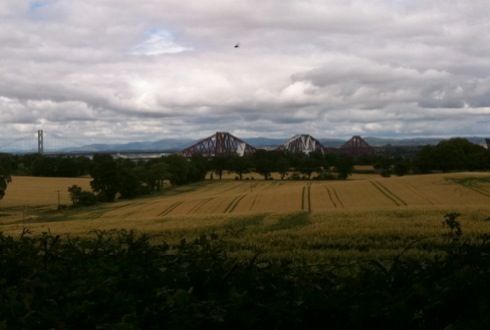 Peebles to Kippen
Well, here I am, sitting on a comfy sofa at home, digesting a hearty meal made by Caroline, with cotton clothes on instead of smelly synthetic exercise gear, which I've been dreaming of for a week. Alas, we've not suddenly sped up and completed the ride, this is merely a stop before continuing the adventure into the highlands.
Today's ride was flat, exceptionally flat, and had the potential to allow our legs to relax, per chance recover. The wind had other ideas, and seemed to be into our face for the whole ride, so it's been a bit of a chore completing today, especially the final 7 miles along to Kippen, where team tactics had Pete and I swapping the honour of breaking wind for the others.
I also had a wee cheat today, Cat has spotted it already, as the pie count of 10 today was due to a packet of mini sausage rolls. Well, makes it look more impressive, and I've already clocked the mini mars bars in the Celebrations that Cat got us – thanks Cat, that will help the count too! 🙂
The past week or so has an almost timeless dream like blur of hills, tarmac and pedals, I really couldn't tell you how many days, how far we've gone, or where we've been in much detail. So, as Kippen came into view, it felt like I'd just finished a long training session, albeit with the now familiar weary legs.
Right, time to enjoy home before tomorrow morning rears it's head. Let's see if I can convince myself, legs and bike to continue away from home, at least it's a nice downhill to begin with.
Pete's Thought for the Day:
So then cycling from one end of the UK to the other that's a trip for fools that is. I have spent the last 9 days cycling why am peddling all day on the 10th. These were some of the thoughts flashing through my head as I struggled headlong into the wind through some pebble dashed scottish housing estate. Yes today was hard work, not sure why really, the terrain was flat, the weather was not to cold or hot, no rain. I think we are just starting to wear out a bit, we all seem to have niggles now, the nurofen gel is starting to see the light of day more than I would like and mels popping pills like smarties. Despite all this I am still looking forward to the last few days as we head through Britain's most spectacular scenery. Just need to do a bodge job on our bodies and make it through.
Big thanks to Caroline for feeding us so well at Kippen, mm home cooked food of the fish pie and sticky toffee pudding variety, yum.
OK bed now with fingers crossed that my legs recover enough to see me through the day.