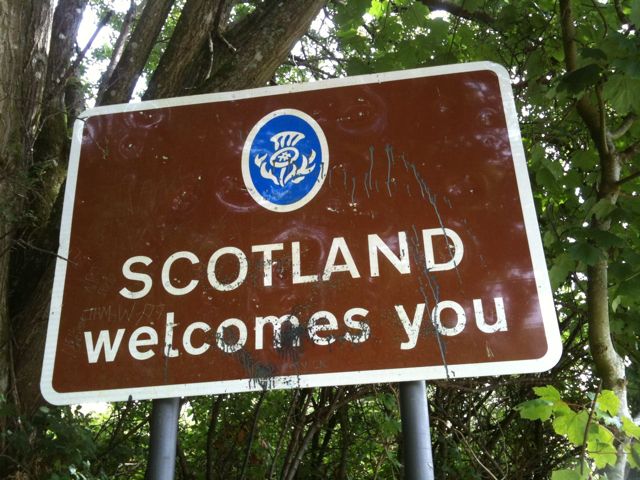 Brampton to Peebles
With a lovely eggs benedict breakfast in our bellies, we rolled on northward with the bonny hills of Scotland in front of us. In no time we'd crossed the border, and were obviously faced with a steep hill just beyond the border sign. I have, however, found a new way of getting up hills, Thunderstruck by AC/DC! Various other tracks helped me up the hills for the rest of the day, proof if it was needed that Scotland rocks!
After a final stock up of Borders tablet in Langholm we were in the wilderness, where what looked like towns on the map turned out to be a couple of houses. There was a worrying moment where we thought we'd cycled too far as we came upon a Tibetan monestary, fortunately it's just a Scottish one. The most activity was from sheep running away from the oncoming cyclists whilst cows hid in the bracken. Still, the roads were quiet, the scenary great, and the weather held making for one of the best days so far. Before long I was rolling along the familiar roads near Peebles where I'd been training a few weeks ago, bringing a bizarre feeling as the length of this journey is realised.
Peebles greeted us in the literal sense, as a welcoming party from the Rotary Club cheered us in (well Dad, really!). After a photo shoot posed next to the adapted mini-buses Dad is being sponsored for, we were treated to a meal in polite company where Dad entertained as the guest speaker.
Our legs that are beginning to feel the burn of nearly 80 miles worth of hills, you'd think they'd be used to it by now!
Pete's Thought for the Day:
Now I must admit I am a bit of a grumpy old fella at times and I like to chunter at various things. One such thing is lads that wear their jeans half way down their arse. Come on just pull them up and stop looking like a chump. One other thing which I think is the scourge of the modern high street. That is kids that walk around with their mobile phones on full blast listening to some terrible modern dance tune. Its even worse when you are sitting on the bus. Anyway I have always wondered why kids bothered doing this and today I found out why and I have to thank Simon for that. Just as we crossed over the scottish border he whipped out his phone chose AC/DC and he shot off up the hill. So I just had to have a go, chose the best of Prince album and Divine Comedy for that matter and cycled off and peddled some of the finest miles I have ever done. It was fantastic to watch the amazing Scottish scenery slip by whilst listening to my tunes, maybe the chavs have got it sussed after all.
Anyway a tough 78.5 mile ride today and my legs really do feel it tonight, but what a ride, scotland is breathtaking by bike.
Look I have finished my blurb and I haven't talked about my backside, things must be going well.