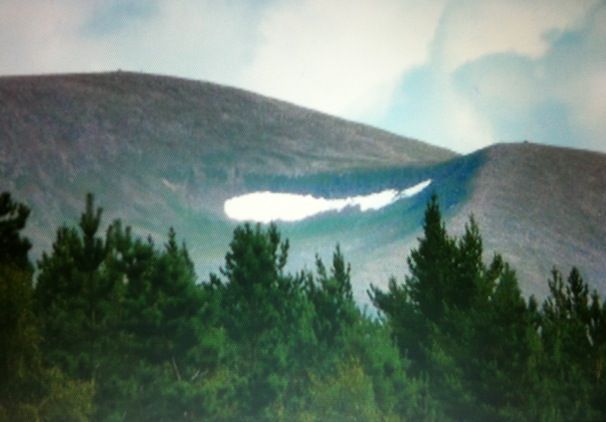 Blair Atholl to Inverness:
We were met with a nice crisp Scottish morning today, by which I mean it was cold and we had to put our jackets on after a few minutes of cycling. The first 18 miles had us powering up the Drumochter Pass, with it's almost undetectable gentle climb to the highest point of our trip.
The cycle path weaves it's way along the old A9, so we were always sandwiched between the railway and new A9, but we could be more care free with our cycling, so I could wiggle all over the place whilst taking photos on the go, as I am prone to do. Picturesque it was, many ancient looking mountains with sweeping u-shaped valleys, tell tale signs of glacial erosion if my school days geography is remembered correctly. There was even some snow lingering on top of the Cairngorms, in August! I wonder if new glaciers are forming…
Our bikes are now beginning to feel the toll of all these miles, with Pete's bike attempting to hurl itself down a rocky embankment whilst Pete wasn't looking, presumably to hide from the continued punishment. It then also took an attempt at Pete by falling on top of him whilst he munched on a pie – a bike at wits end if there ever was one. Dad also has the dubious honour of first puncture of the trip, pretty good going considering how far we've come.
There were plenty more miles, as well as another pass to climb before my energy levels dropped dangerously low and we finally turned the corner for a fine view over Inverness, made even more welcome as it meant the end was in sight for this mammoth ride. We say it quite a lot, but that was a big ride, 90 miles in total, and done at a respectable 12.5mph average too. By the end I was a man on a mission to feed and replenish to prepare for tomorrow, as we've crammed in all the long hard days in at the end. Clever, eh!?
Pete's Thought for the Day:
Well today's wee blog chatter is going to be short and sweet (unlike the ride). Today was a beast, 90 miles of Scottish Highland. Mel was amazing, my knees are still working (I don't know how) and I have eaten my body weight in sugary goodies.
That's all there is to say really as there is food to be eaten (and digested), beer to be drunk and bed to be slept in.
The Lejog machine keeps on rolling, two days to go and we are there, can't quite believe it really.