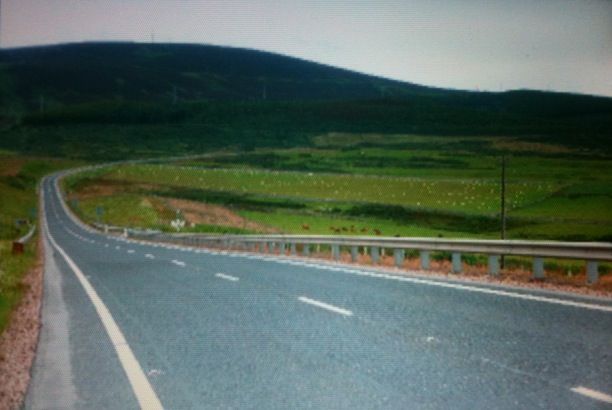 Inverness to Dunbeath
These early morning starts do let us see Scotland in a different light, and today was as crisp as yesterday as well as being calm. For some reason the phrase "still as a pancake" has been stuck in my mind all day – two weeks of staring at a road surface roll by does odd things to your brain.
Today, on paper, promised to be as mean a feat as yesterday. We passed over the mirror smooth Moray Firth to the Black Isle, which is neither black nor an isle, but there were fine views to be had, so who's complaining. As we dropped down to the Cromarty Firth (I just thought it was something to do with the shipping forecast), seals were hauled out, but apart from that it was time to get going along the A9. We managed a couple if diversions, although Pete got ideas about following a white road on the map – did Devon teach him nothing?
My pie count has been languishing recently, I've been trying to be healthy, as well as alter the high energy food du jour. What I was thinking when I bought a low fat sandwich will never be known, but it was regretted further when Pete started cracking the whip, and we didn't stop for lunch until 50 miles were done. However, the silver lining is that Dad and I have discovered the secret to long distance cycling – Lucozade! It's like a liquid mars bar that gets absorbed super quick. The strength it gives your legs is astounding, with my back wheel almost fishtailing under the power (I did have a Lucozade and mars bar at the same time though, dicing with fire there!), and Dad zooming off into the distance when his had kicked in.
Whilst the majority of our ride today has been along the A9, it's been mostly quiet and fun, as there are few cars that bother coming this far up. Several distilleries, including Glen Morangie and it's tranquil glen, have been pulling us along with their enticing malty aromas, and cows and dogs have been leaping with joy as we've gone past, they obviously know we're getting there. There was always a cloud hanging over today for the tales of woe Dad had spoke of when describing the three hills after Helmsdale. We'd extended the route by 14 miles to ensure we didn't face them on the time critical last day, despite it making today nearly 90 miles again. So at Helmsdale we all downed Lucozade, and to be fair the first hill was a long slog. Then the Lucozade kicked in, and I didn't notice the second hill as I was going too fast. The third hill was short and sharp, but I was still buzzing from the previous steep descent to notice.
So, we've completed the final long day of the tour and we're still feeling quite fresh, which seems quite bizarre. Maybe we should just keep going and see what our legs are really capable of.
Pete's Thoughts for the day
When we sat down at devised our route for our LEJOG this day always stood out like a sore thumb. It was going to be our longest, it is right at the end of our trip, how would be feeling? Combined with Mel's Dad telling us how awful the hills were at the end of the ride, day 13 almost took on a mythical status.
So then as day 13 dawned we were apprehensive on how well we would do, the previous day we cycled 90 miles would there be anything left in the tank? Well this is the marvel of LEJOG and the human body. You just get used to it, so much so that we cycled the 88 miles and the hills and felt fresh as we arrived at our B&B.
So only 38 miles to go until tomorrow and we have made it. It has truly been an amazing adventure, tomorrow it will be all over, will we be happy or sad, we will see?