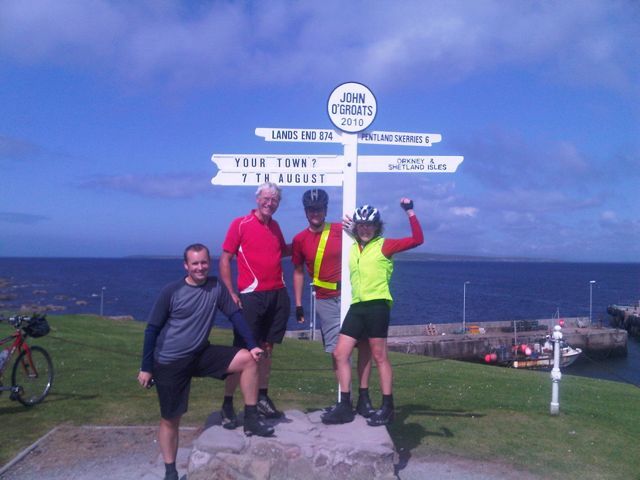 Dunbeath to John O'Groats
It seems like yesterday we were standing in the mist at Lands End, fresh faced and raring to go on our adventure. But, all good things come to an end, and today the final ride was upon us.
A grim windy morning greeted us, and it was hard to convince our legs to pedal once more, despite "only" needing to go 50 more miles. The north sea glistened as the sun began to break through, and several oil rigs stood proudly offshore. By the time we arrived in Wick to pick up some final supplies, the sun was shining, and apart from the strong headwind it was a perfect day for cycling. The final miles were a mixture of head-down into the wind cycling, and stopping to photograph the magnificent coast – a stark contrast to how we started.
Before long we were pedalling down into John O'Groats, the end! Feeling a mixture of joy at managing to complete the distance, as well as apprehension that the holiday was at an end, and we still had to cycle back anyway. With the obligatory photos at the signpost taken, we basked in the sun with lunch and relaxed – job done!
Now, I'd been thinking about extolling the virtues of our reliable bikes, and how they got us the length of the country in fine form. However, the old man of the ride (my bike) decided that it had only signed up to do one length of the country, and 100 metres out of John O'Groats, there was a "ping!" as a spoke gave way, and an impressive buckle formed on my back wheel. There were still 17 miles to do, so we reduced weight by loading up pack-horse Mel with my pannier (thanks Mel, you're a biking legend! You always knew you could've carried more…), and gingerly set off back to catch the train from Wick, which was a piece of cake with the wind virtually blowing us back.
It really doesn't feel like we've cycled the length of the country, maybe we weren't paying attention, maybe it's too hard to fathom, or maybe we've been too tired to remember. I'm sure in days and weeks to come we'll sit up startled in bed as though awakening from a dream saying "I did what?"
Personally, whilst this has been an excellent adventure, I'm looking forward to not spending 7 hours in the saddle after waking up at the crack of dawn or not going further than a few hundred yards without pedalling. No more obsessing about the weather reports on an hourly basis, or ensuring that the online map is updated before going too far, or worrying about the journey height profile and the steep hills it forecasts. It'll also be nice to not have helmet hair, even after washing it.
The journey has shown us we live in a beautiful and varied country, and I've been inspired to visit more of it, although at a much more relaxed pace. I'm still amazed at the genius of the simplicity and efficiency of the bicycle, and how far it's possible to go with two legs and a bike, and yes, I'm going to keep on cycling!
I've not only completed a huge journey by bike, I've spent it with three of the best cycling companions I could hope for, and had a great time to boot, so Dad, Mel and Pete you've made this trip special, thanks! Hopefully you as a reader can see past our complaints about sore bums and legs and realise we've had a great time and are inspired to try an adventure for yourself.
So, thanks for reading and helping us keep going, it's been great having you along for the ride. There's only one question remaining… Where next?
Mel's Muse:
'iPlod'
'I may not be fast but I'll get there in the end'
Well I certainly did get there in the end! My motto kept me going through some tough times, many of which saw me panting and plodding up to the brow of the hill to see 3 well-rested, patient men waiting for me (normally heads pouring over their phones!). On a good day I'd then slowly cycle past them knowing that within minutes they'd be overtaking me again – The hare and the tortoise story came to my mind many a time.
I may have grumbled at many points during our trip but I have to admit I have really enjoyed the challenge. I'm sure a huge part of this is due to the excellent company I've had. I take my hat off to all of the men for supporting me, keeping me company at the back and letting me slipstream them! I really couldn't have made it through many of the days without their encouragement. Thank you all very much. You don't know how special to me you all are! (Hope this isn't too gooey for the blog)
Well I said I'd keep it short! So thanks too for all the support from everyone else. Who's up for the next challenge next summer?
Pete's Final Thought for the Day:
So that's it then, LEJOG is over and what a ride its been so to speak. I sit here on the train from Wick to Inverness musing over the last 14 days and what a 14 days it has been.
It has, without hesitation been a real adventure. Now we don't do much in the way of adventures in modern life apart from the buy a house and get married variety, but these last two weeks has really been memorable stuff. I have just loved the fact its us, our bikes and belongings and its up to us to get to our next destination.
Now to all you blog watchers who may have been contemplating this end to end nonsense now is the time to stop sitting on the fence and sit on your bike (both are as equally painful) you won't regret it. For those who are thinking about it here are some of my musings and suggestions when it comes to your adventure.
1. North to South, South to North which way to go?
As you know we chose to cycle South to North. It was a decision purely based on wind, ie prevailing is south west and it worked for us, 10 out of our 14 days the wind pushed us along quite nicely. Now I am sure amongst the cyclists out there know how much a pain the devils breath (headwind) is, so we are really glad we did it the way we did it. The only downer is you finish at John O Groats which is about as pretty as my backside after day 5.
2. What gear was really useful?
Top tips for gear from me are as follows:
Good tyres, we used swchelbe marathons, no punctures, didn't have to even pump up our tyres and we rode some rough tracks, nuff said.
Merino wool cycling tops are the canines bits, comfy, and don't reek like normal cycling tops.
Travel light, we sore all sorts of crazy cyclists that looked like they were moving home on their bikes. Perfect panniers for the job were the ones Mel had which were Ortlieb City Rollers the front ones but you can fit them on the back.
Overshoes, cycling glasses, something hi vis and sweet, sweet vasoline were all essential.
Also learn from my mistakes, bring a long sleeved top and def more than one pair of shorts, goodness knows how many types of exotic bacteria I have bred over the last two weeks.
3. What route should I take?
Well that's up to you, we decided on a mixture of B roads, small A roads and cycle paths and tried to avoid the major A roads when we could. It meant a longer but much quieter, safer and pleasurable journey. Finally route top tip, use the sustrans route 7 in Scotland, its fantastic, two days of breathtaking cycling.
Finally I would like to say a few thank you's. Firstly to my fellow LEJOGERS, Peter, Mel and Simon who have been such fantastic company all the way, I feel sad that our adventure is over.
To all you guys out there reading the blog, leaving comments. It really has felt like we have had an army of support at home willing us on.
Finally my bike, it may have caused me great pain, but it has been my reliable, bum numbing, freewheeling stead of joy, may you bring me further adventures as well as getting me to and from work.
So what next then? Its a question I imagine all end to enders ask themselves. I imagine the responses generally fall into 3 camps. Firstly the nutters, the ones who have merely done the end to end as an hors d'oeuvres to something mad like cycling round the world. Secondally the never again merchants, those never to swing their leg over and a crossbar again and finally and the category I fit in, glad I have done it but probably not again but want to go on lots more cycling holidays.
So next up for team LEJOG will probably be Sustrans route 68 Derby to Berwick Upon Tweed, (well I know Peter and I want to do that). That maybe a little but more relaxed, a little less vasoline, but the same great company and same sense of adventure, I can't wait.
Update:
We'd also like to say a big thank you to everyone who sponsored us over the 1000 miles (if you include cycling to the start/finish) – we're the top JustGiving sponsors of CoolEarth, thanks to you!
And Finally… Dad's Closing Words:
Just a few lines from the old codger….
As I sit on the bus winging my way home over Drumochter Pass (where we were pedalling only 3 days ago), I feel privileged to have been 'part of the team'.
It has been the most enjoyable experience – great company and what an achievement! The joint (in more ways than one) experience of elation, pain, humour and teamwork has been memorable.
Melanie showed her true grit performance, and whilst she may have been behind on the occasional brae, she was always in good spirit and never far behind – her focus on diet and natural breaks, combined with her infectious laugh shone through the exertion!
Pete (Michael Fish) looked after the weather, switching rapidly between merino tops and night vision jacket as he felt a change in the pressure. His upright, jaunty riding style was unique, although you always knew when a major brae was near when he stood on the pedals!
Simon guided us through the route, regularly stopping to catch a memorable photo, and furnishing the team with all the data you could ever wish for! His quirky sense of humour and passion for pies and local delicacies were priceless. His blog has been a key feature of the trip!
We have seen some of the best scenery the UK has to offer, with great cycling weather (apart from Warrington to Wigan!). It has been a tremendous achievement – 4 fit people on good bikes 'comfortably' covering 1000 miles in 2 weeks. We had wonderful generosity from friends and family, and almost all the passing motorists were considerate too.
Just to close, for those of you thinking about doing something similar, I would say don't wait until you're 60 before doing it, prepare well, travel light, enjoy, but most importantly, have a good team
like ours!
Thanks guys, it's been an honour!