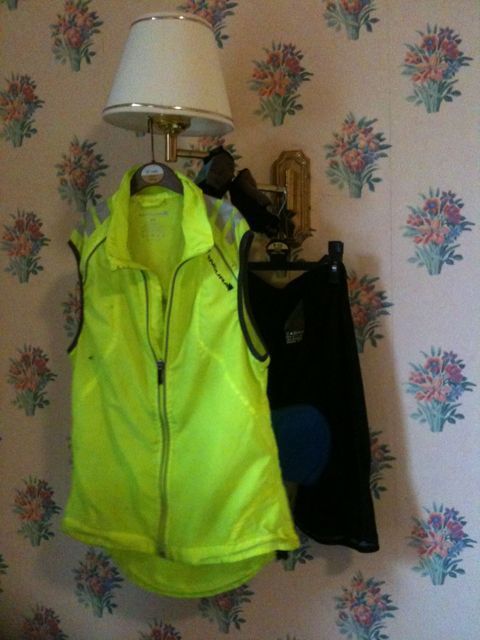 Shrewsbury to Wigan
Setting off from Shrewsbury feels like an age away, we were clean, refreshed and raring to go after our lovely stay at Pam & Paul's. The first 40 miles were done in record time, with an average speed of nearly 15mph (that normally hurts a lot), so the pub lunch with Grandma, Andrew and Jayne was well earned.
The journey north continued, and in no time it lived up to reputation and began chucking it down, all wet weather gear was donned and put to the test. It's not really surprising that we still got a tad wet, the waterproof overshoes took the brunt of road spray, and somehow managed to let in enough water to test Pete's theory that goretex shoes would be good at holding water in as well as out, and made the squelch into the hotel a tad embarassing. The showerproof jacket worked well, but hats off to my Argos plastic bag covering the pannier, which kept the bag bone dry. As you can see, there's plenty of drying going on tonight.
My legs are feeling quite well, and energy levels are high considering we've just covered 70 odd miles, to the point of seriously considering not taking the new shorter flatter route tomorrow – I just fancy some hills to get my legs really working! Well, I've been persuaded on to the new route, by everyone calling me a nutter – I guess I can always do an extension ride along Morecambe Bay if I need to…
Well, we can hold our heads up high and say that we've been tested on our Lejog trip, and looking out on the rainy day, it certainly feels grim up north.
Pete's thought for the day:
Well I learned two new things today, one I don't want to live in Warrington and two the weather does make a big difference to your enjoyment of LEJOG. It belted it down today only for an hour and half mind but that was enough to soak everything (wringing out yer socks in the sink, kind of wet). Now our friend Paul did the JOGLE last year and the weather they had was a tad moist. As you can imagine this put a slight dampener (chortle) on his experience and he was full of tales of woe when he returned which I laughed off at the time. After today I can see what he was getting at. So please weather gods yes that's you Mr McElwee sort out some sunshine for the rest of the trip.
Anyway the ride today a cheeky 72 miles, longest ride so far to date. Its amazing how you get into the swing of riding long miles, so much so Simon is suggesting a long hilly route instead of a more direct flat route for tomorrow the crazy fool.
On a final note a huge thanks to Mels Aunty Pam and Uncle Paul for letting us stay in their fab place in Shrewsbury last night. And especially to Pam who managed to repair my rather embarrassing pair of trousers.
Bonus photo from Andrew of the LEJOGers on their weary way after the pub lunch: