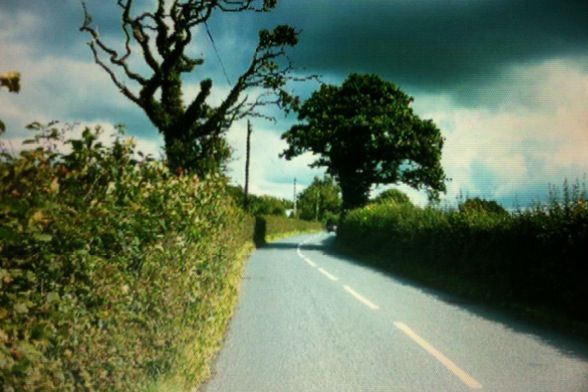 Wigan to Carnforth:
After all that chatter about today being short, it turned out to be a reasonable length, and all that enthusiasm and energy for taking the hilly route had well and truly gone by the morning.
The grim up north label from yesterday does need revising as it is most definitely getting more scenic now we've left the main roads and Wigan behind. Thinking we had a short day had us taking the Sustrans cycle route that sends you on weird zigzag paths, just to avoid little bits of main road, but at least they're on nice country roads. We were even next to the seaside at one point, although the bike computer had us about 80 feet below sea level – it is allowed a funny 5 minutes with all the use it's getting.
The rain has been teasing us again, fortunately nowhere near as bad as last night, but enough to make us stop and don gear which invariably caused the rain to then stop.
That's the last of the flat short days now, I promise. The first week has been excellent, we've had some brilliant rides, I've been surprised by how well bodies and bikes are coping, and we should pass the halfway distance tomorrow morning. But now is the bit I'm really looking forward to, heading over the border to home, to see Caroline, and on through some glorious countryside to the finish.
So, we're at Judy's now, and have been well fed and looked after yet again – I reckon with all these big dinners we'll have put on weight by the end of this trip, and I'm still struggling to eat the mars bars I packed in Kippen, current target is to finish them before getting home!
Pete's thought for the day:
So half way through then, 7 days of cycling under our belt and 7 days to come. We all have started to feel rather chipper the early nightmare days of the south west have been forgotten, our legs have stopped feeling stiff, and even my backside is getting back to normal and believe me I am a happy man to write those words. So reflecting on the ride so far what are my thoughts: First of all I am so proud of Mel, the little pocket battleship has cycled like a trooper. She really is a driven, stubborn so so, what a gal. Secondally we really do live in a bonny country (Warrington and Wigan aside) every day we have been riding through beautiful countryside. Thirdly the British weather does your head in and lastly cycling is the only way to travel.
So todays ride then, mostly along cycle paths, all very pretty, very enjoyable.
So from tomorrow the push north to Scotland is on the cards. The easy middle days are now behind us and the long hard routes through Scotland loom and you know what, I am looking forward to them.